August 2nd: A Day That Won't Live In Infamy
If a deal hasn't been reached by the time this is posted (the agreement reached by congressional leaders and the White House over the weekend is pending caucus approval), then tomorrow will be a day of infamy. According to public consensus, our credit rating will be downgraded, our borrowing rates will skyrocket, Social Security checks won't go out, we'll have to lay off millions of government workers (oh hyperbole), China will get mad, and our cost of living will sharply increase while the quality of living decreases dramatically. The sky will fall, the world economy will collapse, unemployment will make what we have now look like a cakewalk. It will be Disaster;.
Except it will be none of these things.
August 2nd, if a deal is not reached, will not spell the end of the world. Even if S&P and Moody's try and downgrade the United States. Why? Three reasons: One, if the markets thought we were going to be screwed, they would have done it before. Second, the credit rating agencies are utterly superfluous and worthless when it come to US debt. Third, even if we hit the debt ceiling, Turbo Tax Geithner will be permitted to prioritize interest payments on the debt and send out Social Security checks, meaning we won't have a default (and Grandma can still buy the ingredients for her damned fruitcake.)
Taken together, these three things illustrate a picture where August 2nd isn't the end of the world, and that we should really slow down, take a deep breath, and then have a shot of whiskey. Preferably rye, but that's just me.
Article the First: The market was supposed to explode under the debt ceiling, showing how urgent and necessary it is to raise it, according to John Carney:

I just got off the phone with a source on Capitol Hill who has spent the past few days trying to convince Republicans to vote for a debt ceiling hike.
He told me that the biggest obstacle he faces has been "market complacency."
"Frankly, a bit of panic would be very helpful right now," he said.
As he explained it, lots of people in Washington, D.C. expected that this would be a week marked by panic in the markets. Stocks would tank. Bonds would get clobbered. The dollar would do something dramatic. And all of this would help convince reluctant lawmakers that they had to reach a compromise on the debt ceiling.
But none of that has happened. In fact, the markets have been puttering along, still going down into the hole at the same inexorable pace, crushed by overzealous regulators and burdensome government spending.
What makes this doubly important is that markets tend to price these things in ahead of time. If it looks like a country won't repay its debts or do something else that's outrageously foolish, the markets will punish the country long before zero hour, as investors try to get out ahead of the calamity. Yet we've seen nothing of the sort over the past few months here—we have seen it in Greece, Ireland, Portugal, Spain, and Italy, but not here. That means one of two things: either the markets believe we will have some sort of deal, or if none is reached, meh, who cares? The system will keep going. The truth is, we won't default on August 2nd—and the markets know this. But that's Article the Third and I'm skipping ahead, so let's slow our roll and work at calming your dread.
Article the Second: Moody's, Standard & Poor's—these guys talk big, but really, who gives a flipping flapjack, writes Jack Hough:
It's not that investors doubt the judgment of raters, although the latter have attracted plenty of jeers in recent years, partly because their pay-me-to-rate-you business models are inherently awkward, and partly because they have missed some colossal collapses. Enron had an investment-grade credit rating four days before it went bankrupt. During the recent housing bust, mortgage securities that were sold as Parmigiano-Reggiano turned out to be a notch below Cheez Whiz. That has led some outside analysts to mutiny. In December, Meredith Whitney, who made her name covering banks, told CBS's "60 Minutes" that 50 to 100 "sizeable" municipalities could default on amounts totaling "hundreds of billions of dollars," directly contradicting the ratings agencies, who expect that municipal defaults will be isolated and manageable.
So far, the ratings agencies have been right on municipalities. I suspect that they've taken recent criticism to heart and are working hard to produce good research. And in fairness, creditworthiness is a complicated thing to judge, depending as it does on human behavior, and the agencies get plenty of calls right. If they say the U.S. is bucking for a downgrade, I'll take their word for it. I'm unfashionably bullish on America, but I'm not sure anything deserves a perfect credit rating, least of all something that can make its own money.
But I also think the opinions of S&P and Moody's (and Fitch, which says it will decide its opinion of the U.S. in August) are irrelevant when it comes to Treasurys. These firms add value by tracking a universe of bond issuers too vast for most investors to watch. Their opinions on Ford Motor or the city of Rochester, N.Y., matter greatly to bond buyers.
The world doesn't need help analyzing Treasurys, though. No entity in the world is more closely watched than the United States government, not even Lady Gaga. And none publishes more and better information on its financial condition. The sort of investors who decide Treasury prices—foreign governments, giant mutual funds, the Social Security Trust Fund—don't wait for S&P or Moody's to tell them whether to buy. They do the math themselves.
In other words, it all comes down to opportunity cost. You have too much to do and not enough time to do it for most investments, but when it comes to Treasurys, you have all the time in the world. The value for credit rating agencies on US debt is zero—or less than zero, considering their colossal errors during the financial crisis.
Which means that every time President Obama, Senator Reid, or even Speaker Boehner (though I haven't heard him trot this out yet) goes up in front of the public and says that "If we don't put aside politics and fix this problem, and our credit is downgraded, we are royally screwed," all they're doing is engaging in politics. Their threats are hollow and empty—and when the deadline is well and truly reached, they will look more the fool for it.
Article The Third: Guess what: on August 2nd, we will still be able to make interest payments and send out social security checks. Veronique De Rugy explains:
Myth 1: If a deal is not reached by August 2, the U.S. will default on its debt.
Fact 1: The Treasury Department can prioritize payments in order to avoid a default.
The Treasury Department is due to pay off $30 billion in maturing short-term debt. But we also know that the Treasury has the ability to prioritize its payments and pay that particular $30 billion out of the $172 billion it collects in tax revenue. As the Bipartisan Policy Center has calculated, after paying $30 billion in interest payments in August, Treasury could, if it ceased all other functions (see page 13 of this document), also pay for Social Security, Medicare, unemployment benefits, and payments to defense contractors. Technically speaking, there is no need to default in the absence of a debt ceiling agreement.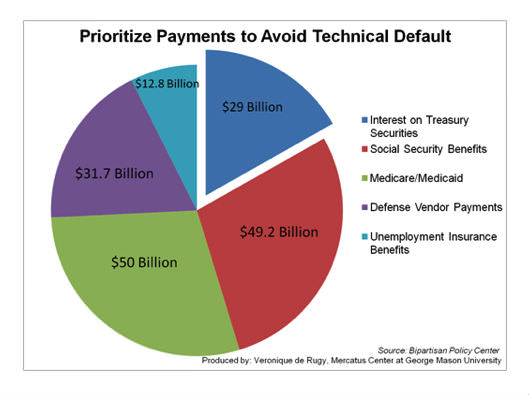 This is not an ideal solution and it entails some significant risks (mainly timing difficulties), but it could be done if necessary.
In addition, the Treasury could sell some of its assets in order to pay the bills. That's an expensive option at this point, since it would probably mean selling them at a low price, but these are not normal times and a fire sale beats a default.
And that's just Myth 1. Myth 2 is social security checks, and Myth 3 is using government trust funds to delay a default. She busts them all and shows that we're really getting worked over nothing. (And if you want more citations, check out Mish Shedlock's post, where he says we are months away from anything remotely like fiscal Armageddon.)
This is what the markets know. They realize August 2nd will not be when the US government defaults, and there is still time. They know that a lot of this is much ado about nothing. They recognize this and that's why they haven't gotten all that jittery. Yes, there is worry. Yes, there is concern. But it is not "OMG we have to do something RIGHT NOW!" There's still time to hammer out a good deal.
Make no mistake, things will happen on August 2nd, but they wil be far from what you've been told to expect. Instead of the sky falling, instead of the world exploding, the most monumental thing to happen will be that every single politcian in Washington—Democrat, Republican, senator, representative, president—will have egg on their faces when this comes due. They will look like total, complete idiots. They will try all their PR tricks to walk back from their proclamations of doom and make themselves look good. And they will fail, not just because they've walked themselves into a corner that's in a twelve-foot ditch at the bottom of a landfill, but also because they're dealing with the mindset of the American voter, which is "politicians suck."
I for one will be more afraid if a deal is reached. Everything we have seen so far puts real, concrete increases in the debt limit for now, and makes vague spending cuts over a ten year period, with no promise that future Congresses and presidents will abide by the cuts, as well as basing them on "baseline budgeting" and still increasing government spending. Any sort of deal based on those foundations will only let us sink further into the quicksand.
No, I want August 2nd to come. I want this "day of infamy." If the sky falls, it'll be on Capitol Hill and the White House alone.