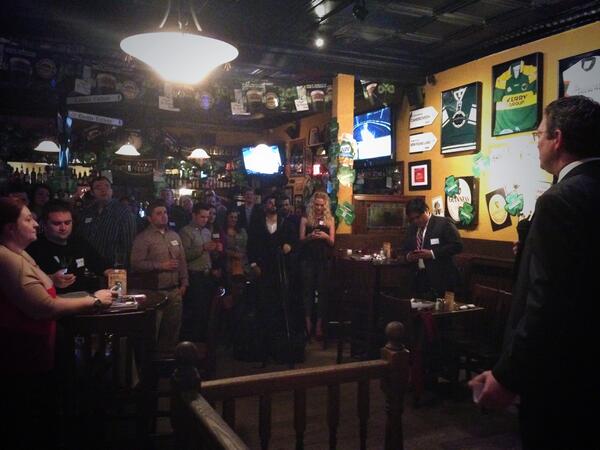 A large group of DC-area liberty activists gathered last Tuesday at O'Sullivan Irish Pub for what they call "Liberty Karaoke," or #LibertyKaraoke, if you're on Twitter. This weekly event was a little different on this particular night because the group was throwing a fundraiser for Rep. Thomas Massie (R-KY), one of the growing number of libertarian-leaning Republicans in Congress.
The event was a resounding success. The 80 to 90 liberty activists, most of whom are in their 20s, raised $9,000 for Massie's campaign coffers, surpassing the $6,630 they raised for Rep. Justin Amash (R-MI) in December.
"I think Massie's reelection is important because we need leaders that are willing to stand up in the name of liberty," Leah Courtney, a DC-area liberty activist, told United Liberty. "Young people are drawn to liberty-minded Republicans because they are the ones with spines, and will speak up for their constituents. There's no hidden agenda, just Congressmen doing their jobs."
"We're a generation that has grown up in a rocky economy. We're the ones that have excessive student loan debt, and we have had to walk into a world where jobs are not necessarily the easiest to find," she said. "We need a REAL change. Massie and Amash are what we're looking for in candidates, and this is just the beginning."
Jacob Champion, another young liberty activist, agreed. "I like Amash and Massie because they align with my concerns," he said. "I see a lack of opportunity in this country lately," pointing out that the federal government often doles out "special favors" and "tax breaks" that distort the market by picking winners and losers.
"Amash and Massie work to maintain equity and fairness in the way the government doles out favors," he said. "I appreciate that."
Together, Liberty Karaoke has taken in more than $15,000 for liberty-minded candidates. That's a motivating feat, folks, especially considering that these young activists don't have a lot of disposable income.
But Tuesday's Liberty Karaoke fundraiser wasn't without controversy, though it's no fault of Massie, Amash, or the liberty activists who attended the event. The controversy can be laid at the feet of the National Journal.
In its coverage of the Liberty Karaoke fundraiser, the weekly magazine ran with the headline, "Drunken Karaoke with Justin Amash," which left the impression to some that the Michigan Congressman, who is facing an establishment-backed primary challenger, was getting hammered at the event.
The truth, however, about the event was told by Rep. Louie Gohmert (R-TX), who spoke from the floor on Friday, lighting into the National Journal for its "sloppy," "libelous," and "sleazy" coverage of the Liberty Karaoke fundraiser.
"We have some who do a rather sloppy job with the duties they are given. It specifically brings to mind, Mr. Speaker, the National Journal Daily. It has got a picture of my friend Justin Amash on the front with the words — in big letters — 'Drunken Karaoke with Justin Amash,'" Gohmert told his colleagues. "Yet, when you read the story, it is very clear that Justin Amash didn't have anything to drink. It was not a drunken karaoke event."
Indeed, the story, written by Tim Alberta, very clearly notes that Amash didn't imbibe alcohol, though he did have water (scandalous!), and that Massie had only one beer, an IPA (great choice, Congressman).
"That is why it was such a surprise that the National Journal would have as the headline — front page, top story — 'Drunken Karaoke with Justin Amash.' That is libelous," said Gohmert. "That is outrageous, and particularly — I did some checking — it turns out that the National Journal has a contract with the House of Representatives to provide everybody a copy of the print version for $617,000 per year."
Gohmert said that the House should revisit that contract because of the "sleazy title," which, he intimated, is part of its bias against conservatives.
"I mean, we all know the National Journal's ratings of conservatives. Justin Amash usually gets rated by the National Journal as one of the more liberal when he is, if not the most conservative, one of the most conservative," noted Gohmert. "So we have known that National Journal reporting in some areas has been very suspect, but that is just as sleazy as it gets."
"A front-page, top-story apology to Justin Amash is owed by the National Journal. That is the least they can do," he added.
The National Journal's ideological ratings of Congress have been panned by conservatives. Erick Erickson, for example, blasted the rankings, writing that the magazine "can't evolve past the nineties in how it covers ideology and party."
Karl Rove, however, has used the National Journal ratings to mislead people about Amash. "The most liberal Republican is Justin Amash of Michigan," he said last summer, "far more liberal than any other Republican." Despite that gross mischaracterization, Amash has a 100% lifetime rating from FreedomWorks and the Club for Growth, both of which are conservative groups.
The National Journal has recognized that the print version of the story "left the impression with some readers that Rep. Justin Amash was drinking alcohol at a fundraiser." The magazine acknowledged that "the congressman was drinking only water and did not participate in the karaoke event" and apologized for the confusion.
It's disappointing to see such a worthy, creative endeavor created by young people who are engaging in the political process by supporting liberty-minded Republicans become a topic of controversy.
At the same time, however, it seems to have lit a fire under the group to do more events to promote pro-liberty candidates. What's more, their efforts are now a part of the Congressional Record, something about which they can proudly boast.
Top image credit: @justinamash
National Journal image credit: Jessica Dambach via Facebook