"A good measure of how serious Republicans are on cutting spending is how they react when the tiniest Pentagon spending cuts are proposed." — Coalition to Reduce Spending
— CBO report on employer mandate measure: House Republicans may have received a bit of set back yesterday on a measure that would change the definition of a full-time employee from 30 hours per week, as set under the employer mandate, to 40 hours. The Save American Workers Act would reduce the number of people receiving employer-based coverage by 1 million, according to the Congressional Budget Office, and increase budget deficits by $73.7 billion in the net 10 years. Republicans plan to bring the measure to the floor some time next month. The Obama administration has delayed the mandate for small and medium-sized businesses until 2016. The U.S. Chamber of Commerce and many other organizations back the Save American Workers Act.
— Tea Party Express likely to endorse in Kansas GOP Senate race: Though she didn't outright say that they were endorsing Milton Wolf, Amy Kremer, chair of the Tea Party Express, intimated that in a tweet this morning. "Headed to Kansas today for a big announcement tomorrow," Kremer tweeted. "Looking forward to seeing my friend @miltonwolfmd!"
— State Obamacare exchanges were high-risk security threats: Documents obtained by the Associated Press show that "more than two-thirds of state systems that were supposed to tap into federal computers to verify sensitive personal information for coverage were initially rated as 'high risk' for security problems." The emails show that administration information officials were signing off on state systems in late-September, just days before the beginning of the October 1 open enrollment period, "whether or not they are a high risk."
— Hawkish Republicans not happy about defense cuts: Sen. Lindsey Graham (R-SC), who has never heard of a war he doesn't like, is leading the charge to block proposed reductions to the size of the military. It's dead on arrival," Graham told his Republican colleagues, according to the Washington Examiner, later adding that the "army at the level envisioned is completely inadequate to meet the threats we are faced with." Now, Graham isn't the only Republican unhappy with the effort to make the military more efficient — he's just going to be the loudest — despite defense spending being one of the most bloated, wasteful areas of the federal budget.
— Julie Borowski on discrimination against gay people: The video is from mid-December, but with the debate of Arizona's SB 1062 — a measure that would allow religious business owners to discriminate against gay people — what Julie Borowski has to say is relevant. "[N]obody should be forced to provide a service for another person. That's crossing the line," Borowski says, though she doesn't have a problem with gay people. "Freedom means being able to have unpopular and controversial opinions and beliefs. Freedom means refusing to shop at some place because that business owner has beliefs you disagree with."
— Republicans need the Tea Party: Daniel Horowitz argues that Republicans should embrace the Tea Party movement, not go to war with it. "A way of looking at the schism between the Tea Party and the Republican party is that the Tea Party, which is an upstart, is driven more by the missionary mentality, while the Republican party is more of a business establishment with a business temperament and approach. John Boehner and Mitch McConnell are dealmakers, not game-changers," writes Horowitz. "The Tea Party's mission is not parallel to that of the political Left. It is not about creating a new race of human beings or a new social order. Its mission is closer to the realism of business. Its mission is to defend something familiar and real — a Constitution that has been shredded, a culture that has been traduced, and an economy that is heading for bankruptcy." There a lot to disagree with in the piece, much of which comes from the fact that the Tea Party isn't necessarily fond of interventionist foreign policy, nor are they all social conservatives. Nevertheless, it's worth a read.
— Atheist group booted from CPAC: If you were on Twitter early yesterday afternoon, you've already heard the story. CNN ran a story early yesterday morning on American Atheists and the booth that they had purchased at CPAC, the largest annual gathering of conservatives. By late morning, however, CPAC had rescinded its decision to allow American Atheists to have a booth, claiming that the group had "misrepresented itself about their willingness to engage in positive dialogue and work together to promote limited government." TL;DR: Atheists aren't welcome at CPAC, or at least that's the narrative now, and neither are gays, sort of. Thanks, conservative outrage machine, you guys are doing a great job of expanding the audience willing to listen to you!
— Piers Morgan's show likely off the air next month: CNN has confirmed that the smug and condescending anti-gun loudmouth's poorly rated show will "probably" end in March. We're celebrating by going to the gun range this weekend!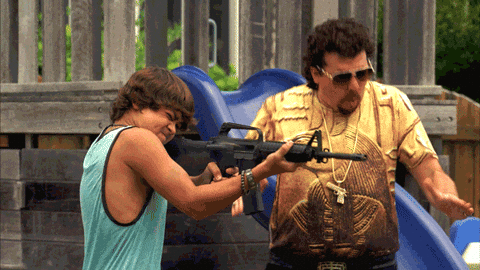 (Credit: Ron Paul Problems)
— Porn star for liberty: Reason has the story of a Duke University freshman and porn star who wants the Republican Party to become more libertarian. "I'm a libertarian who is forced to play within party lines because, at this point, our party isn't strong enough to get anything done without the backing of the Republican Party. It's really frustrating that when I tell people I'm in College Republicans they immediately assume I'm a bigot and a homophobe. Duke Republicans is completely pro-gay rights," Lauren (not her real name) recently told New York Magazine. "I hope the party moves toward a more libertarian style wherein they give rights to gays and more respect to women, and it's not so driven by religion or by theology." Guys, guys, guys. Guys! We should totally listen to her. Because liberty.
— Ted Cruz raising money for group targeting fellow Republicans: Though he's not endorsing any conservative Senate primary challengers, Sen. Ted Cruz (R-TX) is fundraising for a group that is. "Cruz's fundraising for the Madison Project is the latest iteration of the intraparty war that has consumed the GOP since the rise of the tea party in 2010," Politico reports. "While tea party activists argue that weak-willed Republicans are bending to Democrats' every whim, GOP senators say groups like the Madison Project make it more difficult to nominate electable Republicans who can help the party win the net of six seats necessary to take back the Senate this year."
— Aspiring journalists may want to contact National Review: The conservative magazine, National Review, has lost its last D.C.-based reporter after Betsy Woodruff decided to split for the Washington Examiner. Her departure is the latest in a string of solid conservative-leaning journalists exiting for other jobs, including Robert Costa joining the Washington Post and Jonathan Strong leaving for Breitbart. So…yeah, now may be the time to put in an application. Just sayin'.
— So much for living "off-the-grid": A Florida court has ruled that Cape Coral woman cannot live in a self-sufficient home, one not dependent on water or energy provided by the city. "Special Magistrate Harold S. Eskin ruled that the city's codes allow Robin Speronis to live without utility power but she is still required to hook her home to the city's water system. Her alternative source of power must be approved by the city, Eskin said," notes Daniel Jennings at OffTheGridNews.com. "As previously reported in Off The Grid News, Speronis has been fighting the city of Cape Coral since November when a code enforcement officer tried to evict her from her home for living without utilities."
— Establishment v. Tea Party forum: If you're going to be in the D.C.-area on Wednesday, March 5, the American Enterprise Institute (AEI) is hosting a forum that should be worth watching. Billed as Tea party vs. establishment: Who is helping the right, and who is hurting it?, the forum will feature Chris Chocola of the Club for Growth and Steve LaTourette, a former Ohio Congressman with close ties to Speaker John Boehner (R-OH). The forum will be moderated by Tim Carney, a visiting fellow at AEI and columnist at the Washington Examiner.
— Cato to host event on proposed anti-speech regulations: The Cato Institute will host a forum on Tuesday, March 5 on the proposed IRS regulations that could silence groups wanting to participate in the public policy debate. The event will feature several speakers, including Cleta Mitchell, a prominent attorney representing groups targeted by the IRS, and Gabriel Rottman of the American Civil Liberties Union. The event will be streamed online. Event information can be found here.
— Summer jobs for liberty: Young Americans for Liberty is looking for some college students to help out the liberty movement this summer. The internship, provided through the Charles Koch Institute, lasts from May 26 through August 8. The deadline to apply for an internship is Friday, February 28.
If you work for a liberty-minded organization, think tank, or candidate, please send tips, news, or event information to jason-at-unitedliberty(dot)org.