Raising taxes will do nothing to rein in the budget deficit
Tue, 07/24/2012 - 10:20am | posted by Jason Pye
With a vote expected in the Senate tomorrow to extend income tax cuts those making under $250,000, some on the far left are urging Senate Democrats to let the economy to fall off the "fiscal cliff" if Republicans don't go along with the crippling tax hike proposal. Take, for instance, Howard Dean, who, in a debate with Sen. Pat Toomey (R-PA), urged Congress to do the unthinkable:
Former Vermont Gov. and Democratic National Committee Chairman Howard Dean offered a characteristically blunt take on the "fiscal cliff" of looming spending cuts coupled with the expiration of the Bush-era tax cuts on Jan. 1: Let it happen.

"Let's just go over the fiscal cliff," he said Monday on CNBC's "Squawk Box." "Everybody's going to bite the bullet. The Republicans are going to hate the taxes and the Democrats are going to hate some of the cuts, but it's going to have to happen."
[…]
Mr. Dean begged to differ, pointing to estimates from the nonpartisan Congressional Budget Office projecting that 60 percent of the deficit by 2019 will be a result of the Bush-era tax cuts.

He was also not optimistic about a bipartisan solution to fix the deal.

"If you think Democrats are going to agree to cuts in Medicare and Social Security while millionaires are getting big huge tax breaks, that's insane," he said. "Everybody's going to have to put some skin in this game. This deficit was caused by all of us, and we're all going to have to put something in the pot to fix this, and that includes tax increases and spending [cuts]."
What Dean conveniently doesn't mention is that the Congressional Budget Office (CBO) also said that the economy would go back into a recession if all tax cuts weren't extended. Not to mention two studies independent studies that show consequences of raising taxes on higher-income earners. Citigroup showed a 2.9% contraction in the economy as a result of President Obama's tax hike proposal. And Ernst and Young shows that Obama's plan is a jobs killer, which wouldn't be much better than letting all tax cuts expire.
And let's look at Dean's CBO claim. The CBO, which looks at the effects of fiscal policy, presents two different scenarios for the long-term budget outlook. The "baseline" scenario is often viewed as an unrealistic view of the budget because it takes into the account of expiration of certain policies, such as cuts to Medicare payments and expiration of tax hikes. That's probably what Dean is referencing, but it's also an inaccurate measure of the long-term budget. The "alternative" scenario is viewed as a more realistic measure of the budget outlook, which shows the clear and present danger that Americans face — not for lack of revenue, rather out of control spending.
You may ask why I say "out of control spending" and not "a lack of revenue." As the Mercatus Center at George Mason University shows, the revenue expected from President Obama's tax plan — some $967.6 billion over the next 10 years — really dwarfs the $46.9 trillion in projected spending over the same course of time (and this chart uses numbers from President Obama's own budget office):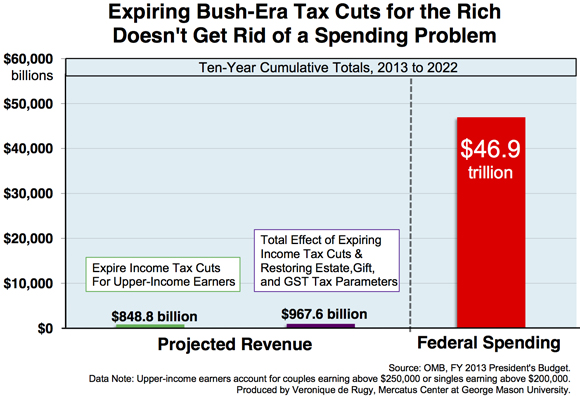 As Veronique de Rugy, who put together the chart, notes, this revenue won't even cover the cost of debt service over that same 10-year budget window. So Dean's argument is on very shaky ground given that the premise is faulty.
The economic consequences (ie. a recession) seem too high to play games, which is exactly what Senate Democrats and the far left are doing.