Some libertarians have attacked the U.S. Constitution as being a "blueprint" of powerful government. They confuse the government as it exists today with what it was originally designed and understood to be at the time it was ratified.  Originally, the Constitution endorsed a very minimalist federal government.  For a national government that provides at least a court system and national defense, the Constitution is almost the ideal founding document.
While it is true that the federal government was weaker under the Articles of Confederation, it was weaker in ways that made it a worse government.  The government under the Articles of Confederation did not have the power to tax directly, instead it relied on the states to provide funds for the national government.  But this means that those states that refused to pay taxes got the benefits of the courts and national defense without having to pay the their portion of the costs.  States were encouraged to free ride on each other which would prevent a national defense capable of preventing further attacks by other foreign powers.
Though it seems this election season started the morning after the 2014 midterms, last night marked just the second state to have cast votes for a presidential nominee. Historically, Americans have rarely chosen senators as their presidents, turning instead to governors (or generals) with a leadership record that can be examined. But this is no ordinary election year.
On the Democrat side, the only remaining candidates (not that they had many in the first place, with the DNC telegraphing a coronation) are former Senator (and Secretary of State) Hillary Clinton, and sitting Senator Bernie Sanders. On the Republican side, the current frontrunners are casino mogul Donald Trump, and Senators Ted Cruz and Marco Rubio (though the last is a huge question mark after a disappointing fifth-place finish in New Hampshire).
Originally posted at International Liberty ~ Ed.
Remember when I wrote a week ago that I was somewhat optimistic about entitlement reform? Well, given what just happened in New Hampshire, I must have been smoking crack. It would now be more accurate to say something will happen with entitlements, but it will be deform rather than reform.
That's because a Bernie Sanders nomination victory followed by a win in November might pave the way for a massive expansion of government. Much of this would be a result of a single-payer healthcare scheme (oh, and don't forget that the Republican victor in New Hampshire also has endorsed government-run healthcare).
Now that we have to take Senator Sanders seriously, let's investigate his agenda.
Holman Jenkins of the Wall Street Journal is not a fan of the Vermont Senator's statism.
His socialism is farcical in a country that can't afford the entitlements it already has. …Mr. Sanders, far from being a radical departure, is merely a perfection of what Democrats have offered since the Clinton era, namely denial. Ignore the problem. If forced to acknowledge it, insist there's no problem because the rich will pay. In the meantime, savage every reform proposal as an attack on "unmet needs." Collect the political rents from serving as defender of every spending interest in our overcommitted republic. …Bernie…, for all his exotic pretenses, is just another machine Democrat.
Election polling is always wrong. Except when it's not. And even then sometimes. But especially in New Hampshire this year. Confused yet? You should be.
Every single poll that's come out in the last week has said something completely different is happening in the first primary, and not even in a linear trending way, with certain candidates ascending or descending. They're literally all over the place.
The following is a list of all the polls currently included in the Real Clear Politics average for New Hampshire.
From this data we can tell only three things:
Trump is leading in New Hampshire.
There is a fight for second place between Rubio, Kasich, Cruz, and Bush.
Christie, Fiorina, and Carson should probably have dropped out yesterday.
Second is where the real mystery is. Every poll shows a different person (or tie) in second place behind Trump [highlighted above in yellow]. Rubio comes in second place in one poll and ties for second in two others, but so does Bush in one, Cruz in one and ties in another, and Kasich in two and ties in another.
Some of these individual polls even show trends from earlier data, which usually signal a real change in support. But even here those trends are contradictory. In the CNN poll, Rubio has gained 6 points from the same poll taken a little over a week ago, while the other candidates have only gained 1 point. But in other polls, like the UMass daily tracking poll, Rubio has lost 2 points over the last week.
Tue, 02/09/2016 - 8:46am | posted by Sarah Lee
The polls opened in New Hampshire at midnight, and early results are favoring Bernie Sanders and John Kasich. That's not really unexpected.
New Jersey Governor Chris Christie relentlessly went after a stunned Marco Rubio at the last GOP debate — and in the days following — to prove the younger Senator is inexperienced and not ready to be president. That's not really unexpected either.
Jeb Bush seems to be upping his profile a bit and gaining some word-of-mouth ground (thanks in part to Christie's attack on Rubio), while Ted Cruz is being forced to answer for some questionable campaign decisions that have people wondering if they can trust him. Politicians making use of another politician's crisis and behaving in a possibly sketchy way? Definitely not unexpected.
Apparently explaining the reasons Senator Rand Paul couldn't connect with Republican voters in his now-suspended presidential campaign makes us here at United Liberty "haters", according to Washington Post reporter Dave Weigel.
In an interview before the Republican debates in Boulder, Paul told me ruefully that he had more haters than anyone else running for president, visible at blogs like United Liberty; fans of Ron Paul obsessed and condemned any Paul feint to the center-right.
Despite that silliness, the whole thing is worth your time, as is everything Weigel writes. He is among the best political reporters of his our generation. But really, what in the world, Dave?
There is plenty of Rand Paul hate to go around, to be sure, but you will find none of it on this server. Here's a sampling of some of the Rand Paul headlines on this site since the presidential campaign started last year:
During Thursday's Democratic debate, Hillary Clinton and Bernie Sanders traded insults, complements, innuendo, and big government solutions to problems created by big government. Although there were plenty of absurd ideas tossed back and forth, perhaps the strangest comment came not from a candidate, but from a moderator.
After the debate had concluded, MSNBC host Rachel Maddow wrapped up with a salutation and a supplication.
We also want to thank our host, the University of New Hampshire, and the people of New Hampshire. You guys get to vote in just five days. I can't wait to see how it turns out. Don't screw up.
"Don't screw up"? Huh?
Maddow seems to be implying that New Hampshire voters could "screw up" by selecting the wrong candidate when they go to the polls on Tuesday. But how?
Who will occupy it next?
The results of the Iowa caucuses have shown us several important things; 1) that everybody hates the establishment of both parties, 2) no one trusts the media anymore, and 3) pollsters have no clue how to conduct polling in the fast-paced world of smartphones and social media.
Ted Cruz easily won the Iowa caucuses on the Republican side, despite being behind Trump by as much as 20-points in some polls taken just before the caucus, and despite the entirety of the GOP establishment doing their best to take him down. In fact, it is arguably the low regard among the GOP establishment in which Cruz is held that gives him such popularity among the base. Despite being hated by the establishment, Cruz's net favorability leads all Republican candidates with a rating of +45% (61% favorable, 16% unfavorable) among Republicans and Republican-leaning independents, according to a recent Gallup poll. Establishment favorite Jeb Bush has a net favorability of -1%.
After a dismal showing in Iowa, Rand Paul is dropping out of the presidential race to focus on his Senate reelection campaign.
Paul had high hopes to coalesce the libertarian wing of the party with a more conservative alliance toward the White House, but as with everyone else's campaign, it all went to hell when Donald Trump entered the race. Paul was averaging 9-10% in national polls in May and June, until Trump announced and sucked the air out of the race, dropping him down to below 4-5% for the remainder of the campaign.
Although his name recognition was one factor, Trump also exposed a rift within the libertarian faction of the right that helped torpedo Paul's campaign. Going back to the Ron Paul newsletter days, there has always been a xenophobic nationalist bloc on the right that calls itself "libertarian" but really isn't. They used to be Paul supporters, both Ron and Rand, but once Trump barged in and explicitly embraced their unfettered id, they quickly jumped ship.
And all the better. Although it won't help an actual libertarian get elected, it's better to know who our actual ideological compatriots are than limp along under false pretenses with people who don't actually care about liberty.
Trumpkins weren't the only problem with Paul's campaign, though. While he called himself a libertarian Republican, Rand was far more conservative than his father Ron. Although he called for ending the War on Drugs, he never fully embraced legalization.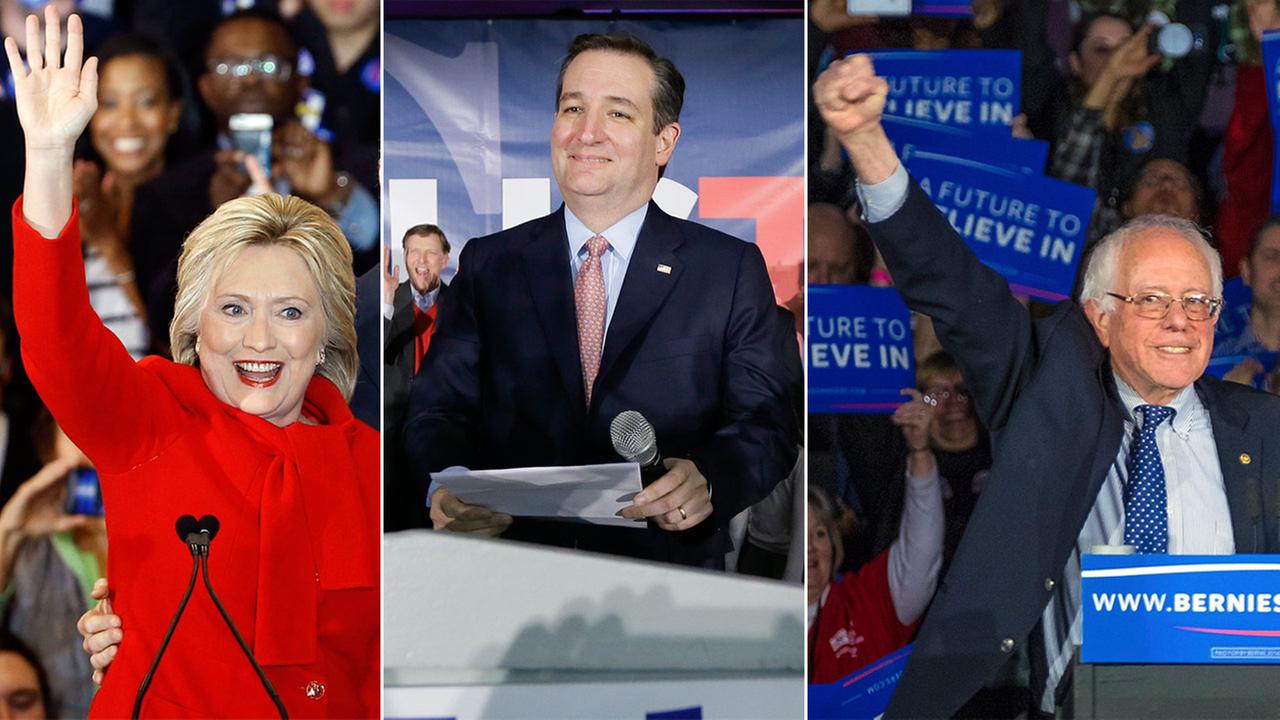 This is Y-UUUUGE!
Despite being down as much as 21% to Trump in some polls, despite (or because of?) record turnout in Iowa (which pundits predicted would mean a Trump victory), despite being savaged by the GOP establishment, despite attacks from Iowa's popular 6-term governor, and despite his principled refusal to bow to King Corn and back away from his calls to end corn subsidies…
Ted Cruz emerged victorious in Iowa, completely changing the dynamic of this race.
Last night's winners:
Ted Cruz – wins Iowa when the odds were against him, and now goes into the South Carolina and Nevada primaries with momentum, the highest favorability ratings of all GOP candidates, and more cash on hand than the next four candidates combined.
Marco Rubio – Rubio surged late and almost beat out Trump for 2nd place, and this can only help him going into New Hampshire. How long will it be before the GOP establishment pressures Bush, Kasich, and Christie to get out so they can consolidate around Rubio to prevent a Cruz nomination?
Conservatives – last night proved that having a conservative candidate who is unapologetic in his conservatism, optimistic in his outlook for the future, and who has a history of standing on principle is a great draw at a time when politicians in general, and the GOP brand and establishment in particular, have favorability ratings just below hemorrhoids.